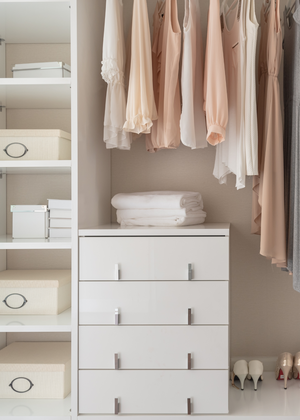 Curate Your Next Go-To Outfits
Time for a closet cleanout
It's 2023!
It's about that time where you start to clean out your closet, reorganize and do some spring cleaning. There are probably still things in your closet from YEARS ago, things you wear every week/day, and items that might still have the tags on them. But there is no shame in any of that, we're in the same boat. So where do you even start? And how do you make sure you have all the basics covered when you're done organizing and sorting through the clutter? Don't stress, easier said than done - we know, BUT we have some helpful tips and a list of things you should have in your closet.
What first?
Get organized.
Let's start with cleaning out your closet and get organized. We all have the pieces that take up space in our closets, and possibly in our hearts. For some reason you just can't bring yourself to get rid of the sweater from 10 years ago, and maybe there's a good reason, and maybe not - that's not our business! So how can you make space in your closet to allow for staple pieces and give yourself some room to grow your wardrobe? Some people like to try the reverse hanger trick, every time you wear an item you flip the hanger the opposite direction, and at the end of a season if you haven't worn it, it gets donated. For others it's easy to go through and decide if a piece of clothing is worth keeping or not. Our favorite way to dig through clothes is to invite our friends over to give us the harsh truth we all need. However you decide to go through your clothes, one thing to keep in mind is quality over quantity. Save up for items that are good quality and will last you longer, there are some styles and some pieces that never go out of style–  those are the pieces to invest in.
What do I Need?
The basics
So what are these pieces? What do you save your money for? How do you find quality clothing? Here's our list of items we deem as a MUST HAVE in your wardrobe for 2023, and as for where to find them… JB ELLIOT of course!
Number 1: Quality basic T-Shirts in both Black and White. Not only are these an easy go to for every day, but they're also the perfect piece to pair with several different outfits. Basic tees go great with almost anything! 
2: Denim in 3-4 washes/styles
We recommend having a few different styles (skinny, straight, wide leg, and bootcut) and washes (light, medium, dark, and black). Denim can be one of the trickiest things to find, because let's face it… Denim shopping isn't for everyone. But once you find a really good pair (or three or four) you are set and they will last a long time if you're buying quality denim!
3: Blazers.
These are one of the biggest and strongest trends that's popped up in the last couple of years. The good news is that blazers are no longer a super business formal article of clothing. Blazers have gotten a complete makeover and luckily they're super versatile too! This is a must have in your wardrobe!
4: Easy Neutral Sweater
This is a piece of clothing that again is very versatile, and can be worn with jeans, leggings, pants, skirts, or over dresses. To make it more versatile, stay away from a turtleneck neckline and go for a v-neck or scoop neck to make sure it can be worn in multiple seasons. 
5: White Button Up
A great white button up will go a long way, these super cute and easy tops can be a top worn with jeans, shorts, trousers, or even as a bathing suit cover up! They're so simple and super versatile which make them a great closet staple!
6: Neutral Blouse
There are great tops to have in your closet as a staple because they're both stylish and purposeful. You can wear a great neutral blouse for a night out with the girls, to meetings, or on a day you want to be a little dressier than a casual top.
7: Black Leggings 
Whether you're buying a pair of black leggings, or faux leather leggings, these are a closet must have because of their versatility. You can dress them up and dress them down, especially the Spanx Faux Leather leggings - these you can pair with a super cute top or sweater to dress them up or t-shirt and sneakers for a more casual look. Especially on days where you don't want to wear jeans, these are a must have!
8: Ponte/dress Pant/trouser
Wide leg trousers and dress pants are always a great closet staple, but now more than ever are these pants a hot commodity. They're not just for the business gal anymore, these are a trend that we are happy to say is here to stay! They're super cute with a nice blouse, a cozy sweater, or a great basic t-shirt. 
9: Dress that's easy to style - dress up or down 
If you don't LOVE dresses and are more of a denim/pant/legging gal, it's still necessary to have one or two easy dresses to have in your closet just in case! Now if you're more of a dress gal, you'll have no problem finding a dress that you can easily pair with several outfits in your closet! Find a dress that you can dress up with a cute jacket and heels, but can also wear with a pair of sneakers! 
10: Shoes: Sneakers. Casual Sneakers, Heels, Bootie, Tall Boot, Utility boot
These are just our favorite shoes to have in our closets to be able to put together several different types of outfits. They're great to pair with several different outfits to give different looks - so you don't feel like you're wearing the same thing every day!