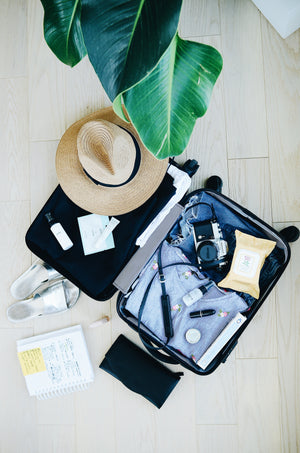 With the last couple years being crazy from Covid-19, restrictions on travel, and tons of canceled and rescheduled flights, this summer seems like the summer that everyone is traveling and taking trips! We know between wanting to keep your look fresh, finding on trend clothes for a trip, and trying to pack the essentials, packing can be a daunting task. 
These are some of our favorite tips, tricks, and favorite essential items to bring on a trip!
Getting there
What to wear
What do you wear to get to your destination? This looks different for everyone, and hey no judgment if you are one of the professional looking, wearing heels at 6:00 in the morning or if you're the sweatpants, hoodie, and sneakers traveler. Maybe you're somewhere in between, one thing I personally never wear on planes is shorts, or jeans, it is just a NO for me. Between sitting on seats that may or may not be cleaned before you sit in them, to being uncomfortable in tight denim for hours on end, my preference with traveling is comfort. But what about the gal that still wants to look cute? Well I'm glad to inform you that you can do both! Ever see those cute effortlessly comfortable women in the airport? That can be you! Throw on some cozy joggers, some fashion forward sneakers like the Zina and a cozy sweatshirt, you can even layer with a denim jacket over the top if you're like me and get cold on planes!
What to pack?
Think multi purpose
So, you've got your travel outfit, what next? What do you pack?
First think about the purpose of your trip and the destination:
Depending on where you're going or what the purpose of your trip is, your packing might look completely different based on destination and purpose. Let's say you're traveling to a tropical location for a couples trip, you might want to pack some light weight breezy dresses, some bathing suits, and some nicer clothes for dinners. What if you're going on a family vacation? Similar situation, but remember you'll have kids in tow so fun casual clothes will also be a necessity.
Secret tip: 
One of my favorite brands to take on vacation is Veronica M, whenever someone comes into the shop prepping for a trip I ALWAYS show them that brand. Most of her styles are wrinkle proof, they are so comfortable, cute, and easy to pack!
I am always mindful of how much I'm packing as well, make sure you're bringing items that are multi purpose. For example, a simple oversized white button up shirt can be worn both with cute denim shorts/jeans with a tuck or tie, and can also be worn open as a bathing suit cover up, and can even be tied on top of a dress for a different look. 
Try to find pieces that pack well, and can be worn multiple times in different ways! We hope this helps with your summer travel plans!