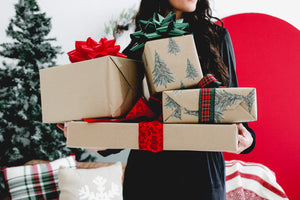 Shop Small This Season
Why it's important
Every year about this time I bet your inbox and social media are flooded with gift guides. There's gift guides for almost everything now, and while it can be overwhelming to sift through all the guides, there is definitely some helpful information in those guides. And not just to add another guide to your inbox, social/the internet, we have created a guide of our own. But how is ours different? Well, when you shop from our gift guide and buy products from our store, you're supporting a small business, you're supporting families, communities, and you're allowing us to give back to the community. We have two donation days this December, because we decided one wasn't enough. Your purchases not only help our small business but you also help local charities and our local community.
Get through the clutter
Shop Small
As you're going through your inbox and scrolling through your social media this year, we encourage you to pick out the gift guides from small businesses, or try to find items on other gift guides and purchase those items from a small business. Your money goes so much further when you support a small business.
So the gift guide! Here we go…
We have gifts for so many types of personalities and budgets, from $10 and under to $500 and over, we have you covered with funny gifts, luxurious gifts, and everything in between! Take a peek at our top picks this year!
Gifts for
the fashionista
We know them, we love them, we are them! Boutiques are the perfect place to find gifts for gals obsessed with fashion! You can find more unique items in a boutique, because inventory is limited, there won't be a ton of people walking around in the exact same top.
Our top picks for the Fashionista:
-Blazers
-Beautiful Jewelry
-Fashion forward tops
-New Denim
-A pop of sparkle or shine for the new year
Gifts for
homebodies
Home, what's better than a cozyday at home filled with amazing products to help you relax? Nothing!
Our top picks for the homebody:
-Shower Steamers
-Pens + Journals
-Mugs + Tea
-Candles
-Hot cocoa + Marshmallows
-Activity cards
-Bath Balms
Gifts for
beauty lovers
We aren't afraid to admit that we are product junkies! We LOVE our beauty products and are excited to share our favorites:
-Teleties
-Bath Balms/Shower Steamers
-No Pull elastic hair bands
-Best in Snow masks
-Nourishing Eye Patches
-plus more in store!