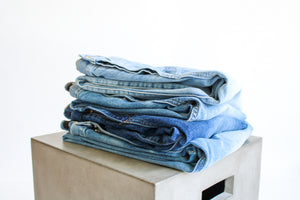 Buy the right jeans for you
Let me start by saying, while each body is different, and there are many different fits of jeans to accentuate those body types, I'm a true believer that as long as you're confident and comfortable, you can make any pair of jeans work, the only exception here is length. Obviously if you're a tall gal, cropped jeans come half way up your shin and that's not the look you're going for, or you're petite and short, then the 32" inseam denim might not be the best option, BUT you could always hem them if you're really feeling the pair. There are options, maybe too many sometimes, let's dive into finding a pair of jeans for you!
I'd like you to imagine a pair of jeans that truly fit, in all the right places, no gapping, no squeezing, just a perfect pair of jeans… Hard to imagine, right? Let's be honest, finding the perfect pair of jeans is such a daunting task, and quite often we get women that come in looking for jeans and just aren't even sure what they're looking for or where to start.
How to find your
Perfect Fit
This is where we come in, we specialize in premium denim that are made to fit, and last. So where do you start?
There are some general questions we like to ask when someone comes in looking for jeans. What style/fit are you looking for?
-Straight
-Skinny
-Flare
-Bootcut
-Wide leg
-Slim
-Boyfriend
Now, this isn't a complete list of what we carry or what's possible to find, but it's a good general starting point. 
So what's the difference between all of these?
How to figure out
Fits & Rises
The next question we ask is, what rise do you generally like to wear?
Super high rise - comes above the navel an inch or two
High rise - comes to the navel
Mid rise - an inch or two below the navel
Low rise - a few inches below the navel
From there we have a decent idea of what to start searching for, then we ask if you have a preference for wash, dark, light or medium wash, as well as if you want a clean look or if you like destruction (rips, holes, distressed hems, etc.)
What's your denim purpose?
How I find Denim
Then finally we get into what you want from your jeans. Are you looking for comfort, style, a classic pair for everyday use? They're all great, and let's be honest, denim is pretty versatile, oftentimes it's how you style them that makes a huge difference! For example, the same pair of jeans can be casual if worn with a basic tee and sneakers, or they can be dressed up with a cute blouse, some heels and accessories! 
I have more of an athletic build/hourglass shape. I typically wear a 28/29 in denim, but my waist is a 25 — anyone else relate? It makes it almost impossible to find a pair that fits my butt and thighs, but won't gap around my waist. We have a ton of women that come in with similar features as myself, and typically once they see a pair of jeans on a similar body type to them, they are so much more confident trying on the straight leg jeans, that they had previously thought would make them look "too big". My biggest piece of advice with denim, is to just try them. Try the pair you don't think will look good on you, more often than not those are the pair you'll end up with! 
Hopefully you're starting to get a good idea of what you want, and can start shopping for a pair of denim you'll love! Let me know your thoughts and if you need any other help finding the perfect pair for you! You can always reach out to us by filling out our contact form, message us on Instagram or Facebook, or even better, stop in and ask for help with denim! We would love to help you find your perfect pair!